Millions of American kids play organized soccer every year. But will Dad watch it? Will your Great Aunt Suzy watch it? People who grew watching their favorite baseball, football, or basketball team refuse to enjoy soccer because it will eat away their sports popularity. Well, we already have
four
big televised sports and NASCAR, and the population is only growing. I believe the following people and events are key to increasing soccer interest and recruiting other fans:
Hockey fans ~ It's kind of the same concept

The soccer players and teams themselves ~ Do more community work, partner with other sports teams in the same city, etc.

STOP FLOPPING SO MUCH! ~ Lots of people hate the NBA because of this, but in soccer it's even worse

Bring the top international club teams to the US

Recruit more of the top international players into Major League Soccer

People don't want to get up for a 7am EPL game on a Saturday

People want to root for an American club team, but the quality of MLS play isn't on par with the English Premier League, German Bundesliga, Primera Division, etc.
So you want to become a soccer fan? Their are books like
Soccer for Dummies
that explain it well. You need to learn the different "tactical" formations (the starting lineup), the different leagues, why teams play a "friendly", other tournaments besides the World Cup. Offside makes more sense then you think!
I plan on following Arsenal in the English Premier League this fall because they have German players such as Ozil, Podolski, and Mertesacker.
Interested in watching some games now? The World Cup runs through July 14, and you can watch the MLS this summer. Here is a rundown of game you should be able to watch on a basic cable or satellite package.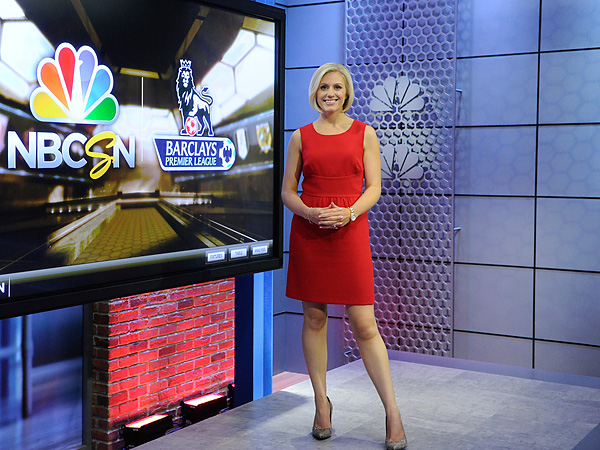 Rebecca Lowe
2014 Men's FIFA World Cup on ESPN/2/ABC ~ This is obviously the most exciting time when the top countries in the world meet up every for years. The announcers are great (Ian Darke) and most are British (Ian Darke), and you can catch it in Spanish on Univision. Go Go USA! Thru July 14
Major League Soccer (USA + Toronto) on ESPN2/NBCSN/ABC ~ Most diehard soccer fans believe that the MLS is much lower on the pyramid than the top European leagues. Sadly, this is true. Most top American players play overseas and international players usually arrive at the twilight (David Beckham, David Villa) of their careers. Their are some exceptions, such as US stars Clint Dempsey and Michael Bradley. Watch it if you please, but this on not the top level. The MLS All-Stars will probably be thumped by Bayern Munich in the MLS All Star Game. March to October
English (Barclays) Premier League on NBCSN/NBC ~ This one of the "premier" leagues in the world and the title sponsor is currently Barclays. This is where Robin Van Persie, Wayne Rooney, and play. NBCSN generally airs games 7a and 10/11a Saturdays and Sundays, with NBC airing a Noon game one of those days. Their are often a couple 3p games on NBC during the week. This is pretty much the best you can get, in soccer, and pn air talent. Go Arsenal! August to May
2015 Women's, 2018 Men's, 2019 Women's, and 2022 Men's World Cup on Fox Sports 1/2/Fox ~ US women's team is still really good and will have a shot at winning 2015 (in Canada!). Who knows about the men's team. Qatar may not be ready for 2022 and the US could be hosting it. Fox is grooming Gus Johnson to be lead commentator. Gus is a great basketball and football announcer and he's from Detroit. His enthusiasm does not overshadow that his soccer commentary needs quite a bit of work. Most of Fox's other announcers are OK at best. Great soccer, but potential for disastrous broadcast coveerage.
International Champions Cup on FS1/Fox ~ Top European teams such as Arsenal and Real Madrid play games across the United States. Liverpool and Real Madrid have a match at The Big House on August 7th. This is not a recurring event. Mid July to Late August 2014
Other Stuff on Basic Cable: CONCACAF Gold Cup (top North/Central Am. nat'l teams), CONCACAF Champions League (top N./Cen. Am. club teams), World Cup Qualifying, Friendlies (Games played between national and national or club and club teams)